I'm an unashamed fan of U.K. coastal holiday lets. My husband Nick and I first started investing in them in 2008 as we saw the economic climate deteriorating and reckoned that people would start holidaying at home again. We're now the proud owners of two high-occupancy holiday lets – one on the island of Portland in Dorset, home of the 2012 Olympic Sailing events, and one at an award-winning development at Camber Sands in E. Sussex, one of the U.K.'s finest sandy beaches.

I believe that, as we approach 2012, we are entering a "golden age of holiday lets". Allow me to explain.
Recent news suggests that aviation fuel price hikes and new legislation and taxes are going to dramatically increase airfares in 2012. Combine that with social and political unrest in such traditional holiday destinations as Greece, Turkey, and Egypt, and you have some very compelling reasons for holidaying in the U.K.
On top of that, we have the Olympic Games in 2012 along with various other high profile sporting events, and the World Athletic Championships has been confirmed for London for 2015. International focus is very much on the U.K. over the coming years.
There is also a noticeable rise of the "stay-cation"; people are taking several shorter holidays as opposed to one long summer holiday. This is good news for holiday lets close to areas of high population density, such as London, as you can tap into the "long weekenders" market, all year round.
Additionally, it is worth noting that holiday lets are a global marketplace and portals such as Holidaylettings.co.uk and HomeAway allow you to tap into this huge arena at a very nominal cost.
In times of recession, people also turn to nostalgia to comfort them (The new British Airways advert is a great example of this). This again is good for U.K. holiday lets. We all remember childhood holidays of building sandcastles on the beach, donkey rides, and playing amongst rock pools, well now we can take our own children to a U.K. beach to experience this, and re-live our own happy memories in the process!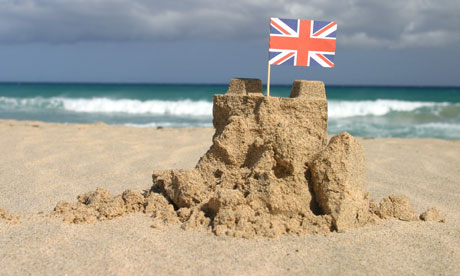 Wherever you are in the U.K., you are only a maximum of 73 miles from the sea. We're an island nation and we're slowly rediscovering our beautiful coast and realising that holidaying at home has a great deal to offer, whatever the weather.
This picture of the stunning beach at Camber Sands is one such example:
Despite all this, we, as holiday let owners, cannot rest on our marketing laurels! It is a competitive marketplace and only the best will achieve above-average occupancy.
We do use an agent for our holiday lets (the excellent Richard Smith of Beside the Sea), but we also augment that with our own marketing efforts.
It might surprise you, but when it comes to marketing holiday lets, we can draw some parallels with the fashion industry. You should always be working one season ahead and you also need to engage "lifestyle aspiration". Just like people buy clothes with their eyes and hope to emulate celebrities, they also "buy" their holiday with their eyes and hope to emulate a certain lifestyle, and this is something you can tap into.
There is a phenomenon known as "anticipation happiness", something I came across recently in an interesting article.
It was about some research into when people are happiest, and this little paragraph below caught my eye:
"… When doing a study of vacationers, the happiest people were the ones in the weeks leading up to a vacation. It was all about anticipation. Again, it looks like our brain rewards us more for working toward a goal than for actually arriving there. The study actually suggests taking more frequent, shorter vacations. You know, so you can spend more time anticipating them".
So your holiday let marketing needs to engage this by using great photos, video tours, and also framing written content around your holiday let that allows the prospective guest to imagine themselves there. This is a sure-fire and proven way to fill your low season months and increase your cash flow. It certainly worked for us anyway!
This picture has proven to be a winner for us:
The way we did this was to create a marketing "matrix" for each property.
First of all, we created a calendar of events in the area throughout the year, and also seasonal events like Valentine's Day, Mother's Day, Bonfire Night, Christmas, New Year etc.
On the second layer of the matrix we listed all the attributes, or shall we say "assets" of our holiday let, such as "adjacent to amazing beach", "1.5 hour drive from central London", "watersports mecca", "40 golf courses in 30 miles radius", "birdwatching", "area of outstanding natural beauty", "close to historic town of Rye", "close to 1066 attractions", "sunniest part of the U.K" , "fine dining on the doorstep" and so on.
On the third layer of the matrix, we then listed ideas for "packages" such as "Valentines Weekend" where you would arrive at the cottage and find a bottle of champagne, some chocolates, and some roses.
Working approx. 6 weeks ahead, we then created blogs and marketing material around the events, focusing on the "assets" that this allowed us to highlight.
We also used some different photography. For instance, for Christmas, we found a picture of the beach at Camber Sands covered in snow.
This allowed us to frame a blog and marketing material around spending Christmas in a cosy cottage and going for long, bracing walks on the beach. We also showed photos of our cottage with Christmas decorations and gave the option to have a COOK! Christmas dinner included in the package. It's important to note that "the most up to date information is always the most relevant" – therefore there is no point in your website or marketing never changing to reflect the seasons.
All these efforts led to 100% occupancy from May to mid-October, an average of 3 weekends booked per month in low season, Christmas and New Year bookings, and we've recently taken our first Summer 2012 booking!
So, there is holiday lets gold to be had, if you are prepared to make that little bit of extra effort, and also create a high-class product and guest experience – but that's another blog. 🙂
Finally, on the subject of holiday lets, it's worth checking out this recent video I recorded about a small window of opportunity for anyone with U.K. or E.U. holiday lets to claim a potentially significant tax rebate. I have, and I recorded this interview to let others know so that you can do the same.
If you want to contact Amit fo find out more, his email address is a.prasanna@gp-ca.com
Thank you for reading my blog, and if you have any questions about holiday lets, or indeed anything to do with property investment, please feel free to post them on the Property Tribes forum, the U.K.'s busiest landlord and investor community that I founded with my husband Nick. It's free to join and you'll find it a very professional, friendly, and supportive place where Landlords happily share information, strategies, and best practice for the greater good of the community.
You can also find more of my property musings at my blog at www.yulpa.com/blog
---
Vanessa Warwick is a former TV presenter turned professional Landlord, consultant, and speaker. Along with her husband Nick Tadd, she founded Property Tribes, which is now the U.K.'s busiest online Landlord and investor community. Nick and Vanessa have just launched their new tech product, Yulpa, an on-line "property office/filo-fax" that helps you organise and manage your entire property life in one place. It comes with an iPhone app that does auto due diligence on any property being considered for purchase. Vanessa and Nick have a portfolio of high end apartments in North and East London, family houses in the South East, holiday lets on the South Coast, and a penthouse apartment in Larnaca, Cyprus.

Vanessa's Articles

---
---
---