National Property Meet – 9th December 2020 – Featuring Mark Alexander
Make Text Bigger
We value the health and safety of our delegates and hosts.
Due To Covid-19 All pin Meetings Will Be held as Virtual Events For The Foreseeable Future.
We apologise for any inconvenience caused. However, we believe this will be a chance for enhanced networking as you will see when you participate.
National Virtual December 2020 Meeting
As you know we don't hold local pin Meetings in December. However, this year for the very first time, we will be holding an inaugural Virtual National pin Meeting to keep your property momentum going into the New Year!
Many people believe that we will see the property market crash as a result of the UK recession and COVID-19 pandemic.The next 12 months will be a great time to acquire property, as long as you know what you are doing, and it has never been more important to get a support network around you.
This Virtual National pin Meeting will be held on Wednesday 9th December via Zoom Video Conferencing. The meeting, breakouts, and networking sessions will be interactive. This will be your chance to network with like-minded property investors from around the UK.
During the meeting, Simon Zutshi, Founder of property investors network, will be reviewing 2020 and how as property investors we can move forward into 2021.
The theme will continue with an expert guest panel which includes:  Mark Alexander Founder of Property118, Mike Bristow CEO & Co-Founder of CrowdProperty, Ranjan Bhattachary a Founder of Baker Street Property Meet, and Richard Bowser Founder of Property Investor News.
Simon and the panel will be discussing what is happening in the UK property market right now, the market opportunities 2021 are going to present and how you can profit from them.
This is really going to help you map out your strategy for 2021 and give you a flying start to the new year and beyond.
Meet the Virtual National pin Meeting Expert Panel: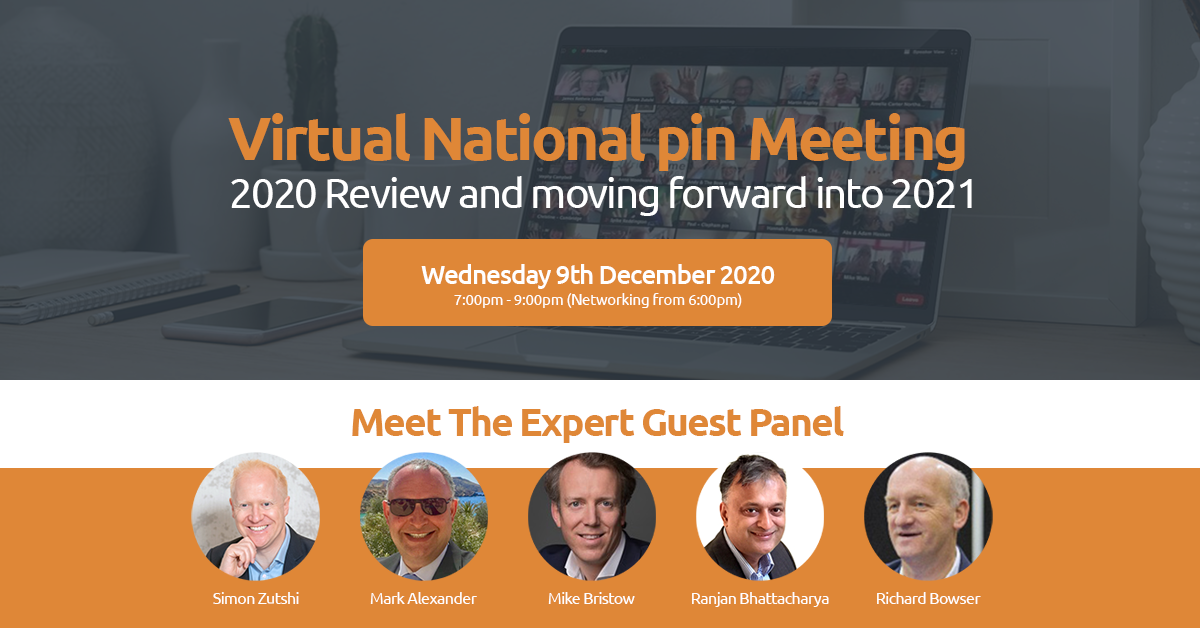 Simon Zutshi, Founder of propertyinvestorsnetwork.co.uk
Simon Zutshi, experienced investor, successful entrepreneur and best-selling author, is widely recognised as one of the top wealth creation strategists in the UK. Having started to invest in property in 1995, he went on to become financially independent by the age of 32. Since 2003 Simon has taught thousands of entrepreneurs and business owners how to successfully invest in a tax-efficient way to create additional streams of income, give them more time to do the things they want to do and build their long-term wealth.
Mark Alexander, Founder of Property118.com
Mark specialises in assisting UK private landlords with tax planning. He has helped thousands of landlords to build highly lucrative portfolios of investment property. He has also helped several businesses to achieve their full potential by sharing his experiences and helping them to promote theirs. The Property118 online landlord's community he founded has nearly 200,000 subscribers and is a provider news to the official Google News publisher network. He has a substantial rental property business in the UK which he has been building since 1989.
Mike Bristow, CEO & Co-Founder of CrowdProperty.com
CEO and Co-Founder of CrowdProperty, the UK's leading specialist property project online lending platform, with 18 years experience as a strategy consultant advising leading international companies and private equity funds on M&A and corporate strategy. CrowdProperty is FCA authorised and regulated and an HMRC approved ISA / IFISA manager. Mike was named in the Peer2Peer Finance News Power 50 list in both 2018 and 2019 and is a founding board member of the Innovate Finance 36H Group alongside other leading peer-to-peer lending platforms, having previously sat on the Peer-to-Peer Finance Association (P2PFA) board. Mike was named 'Entrepreneur of the Year' at the Midlands Business Awards 2020.
Ranjan Bhattacharya, Founder of BakerStreetPropertyMeet.com
Ranjan hosts the Baker Street Property Meet where 300 passionate property people meet up each month. Ranjan is founder of Fab Real Estate Group, a diversified property company focusing on acquiring and developing residential and commercial properties in London and South East England. We also run a serviced office and business centre providing office accommodation to small businesses in St Albans City Centre. Ranjan has been investing and developing property for thirty years. He writes a regular column on commercial property investment for Property Investor News and is on the judging panel for the Property Investor Awards.
Richard Bowser, Founder of PropertyInvestorNews.com
Richard Bowser is the editor of Property Investor News, the monthly magazine which he launched in 2002. He is an experienced landlord and property investor with rental properties in Durham and London. An experienced professional landlord himself, Richard Bowser occupies a perfect vantage point from which to assess what is happening in the sector - and what is looming on the horizon. Over the last decade, Richard has regularly spelt out to investors the inherent risk of speculative investment strategies based on low yields and excessively high LTV borrowing. A sought after speaker at many property investor and landlord events, Richard's views are widely recognised and valued - most importantly by the thousands of subscribers to 'Property Investor News'.
This event is not to be repeated. As this is a national event and we only have limited spaces available on Zoom so we highly recommend you book your place now to avoid disappointment.
We look forward to seeing you virtually to help you maximise the current and upcoming property market opportunities which you'll hear all about on Wednesday 9th December 2020.
Online Go To Meeting - To Book Press The Book Now Button You Will Be Added To The Webinar The Link To Join The Meeting Will Be Sent To You By Email Email Will Be From: customercare@gotowebinar.com
Book your ticket for your local pin meeting now
---
Details
Start: 09-12-2020 @ 6:00 PM End: 09-12-2020 @ 9:00 PM Cost: £20
Organiser
Property Investors Network

Phone: 0121 228 2223
---
Get Event Tickets
---
IMPORTANT NOTE TO PROPERTY118 READERS
The above is an advertisement, it is not a recommendation.
Please note Property118 doesn't do any due diligence on advertised events, the organisers, their speakers or other attendees. If you decide to do business with anybody you meet at any networking event you must do your own due diligence. Property118 cannot be held responsible for your own business decisions.
If you decide to attend the above event please post a review of your experience in the comments section below and let us know whether Property118 was mentioned by the organisers and whether our leaflets were handed out.
---
---
Promote Your Events FREE OF CHARGE
Comments
Leave Comments
Please Log-In OR Become a member to reply to comments or subscribe to new comment notifications.
OR